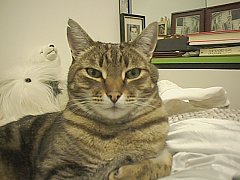 Tigger
Ganges, Salt Spring Island, Canada
Tigger is the manager of Greenwood Care Facility on Salt Spring Island in British Colombia, Canada. He was born around 1992-93 and has been here since he was a kitten. The residents there totally spoil him, and he loves every minute of it. Often residents will "catnap" him to their rooms where he will spend hours giving and receiving special treatment. Sometimes he will seek out the people who need him most. Somehow he seems to know when someone is not long for this world, and he will stay by their side for hours and hours.
Note: in August of 2002, Tigger was found dead on the doorstep of the care facility. The residents will really miss him. He has a lovely stone in a prominent place in the new therapeutic garden at Greenwoods.
---
copyright ©1998-2003. All text and photographs are copyrighted by Trina and Greg Samson unless otherwise indicated. If you are interested in using something from my site, please write to ask permission first.

webmaster@shopcat.com. This shopcat added 25Mar00