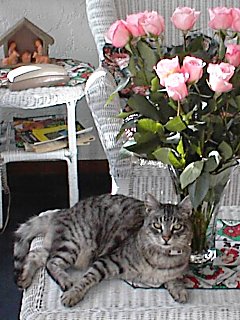 Miss Cuddles
Catalina Island, California
"Hi my name is Cuddles and I work at the Catalina Island Seacrest Inn on Catalina Island. It is my job to be sure that all guests are kitty friendly and know how to pet me. It is also my job to keep chairs warm and welcome guests. I am 19 years old and have been working here for the past 8 years. I am a beautiful Gray Tabby with great big green eyes. I have a knack for knowing when our guests need to be loved and cuddled. Just last week a very nice girl came to the island to scatter her mother's ashes. That night while she was out doing just that I went and stayed by her door waiting for her to return. She was very sad when she arrived but I saw a smile on her face when she found me there waiting for her. We went into her room and I stayed with her all night. She told my mom in the morning just how wonderful I am. Purrrrr." Story and picture sent in by Michele Prevatt of Catalina Island, California.
Note: Miss Cuddles passed away in August of 2004. She was 22 at the time. She will be missed terribly.
---
copyright ©1998-present. All text and photographs are copyrighted by Trina and Greg Samson unless otherwise indicated. If you are interested in using something from my site, please write to ask permission first.

webmaster@shopcat.com. This shopcat added 28Mar02