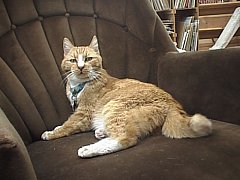 Drip
Vancouver, Washington
Drip works at Vintage Books in Vancouver Washington. He was a stray, picked up at the Humane Society in 1992, when he was estimated to be about 10 years old. He was named Drip at the Humane Society, because of his tendency to drool. His little tail is very cute and has two kinks in it. He's very friendly. When we visited the store, he ran up to me. I kneeled down and he ran up my leg. He made motions looking to me like he wanted to be picked up, so I did. He nuzzled close to my neck and purred loudly in my ear. Next thing I knew, I felt drool running down the inside of my shirt! Now I know by experience why they named him Drip.

Note: Sadly, Drip passed away in April of 1999. He was about 17 years old, and possibly had a thyroid condition. He was one of the sweetest shopcats, and I will miss him a lot. I'm sure many others will too.
---
copyright ©1998-2003. All text and photographs are copyrighted by Trina and Greg Samson unless otherwise indicated. If you are interested in using something from my site, please write to ask permission first.

webmaster@shopcat.com. This shopcat added 27Apr98